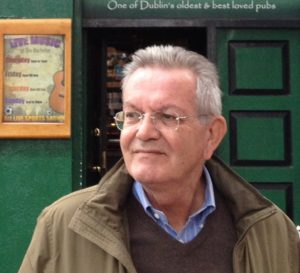 Born in Athens in 1951, Greece.

BA (Hons) in Fine Arts (Painting) ASFA (Athens School of Fine Arts).

Academic courses in Byzantine Icon painting, Fresco and Sculpture.

Painting lessons with painter Frans Erkelens in The Hague (NL).

Holds a BSc and MSc degree in Mechanical Engineering, UCL, London.

Member of the Chamber of Fine Arts of Greece.

Lives and works in Athens.
---
2018 Arte a Palazzo, Palazzo Gallio, Lago di Como, Italy
2002  Ersi Gallery, Athens
---
2019 Art Capital – Grand Palais, Paris
2019 Skoufa Gallery, Athens
2018 Depot Gallery, Athens
2018 Art Capital – Grand Palais, Paris
2017 Skoufa Gallery, Myconos
2013 Ianos art Gallery, Athens
2009 Athens Municipal Cultural Centre
2008 Athens Municipal Cultural Centre
2007 Skoufa Gallery, Athens
2006 Skoufa Gallery, Athens
2005 Skoufa Gallery, Athens
2003 Ersi Gallery, Athens
2002 Ersi Gallery, Athens